PLEASE NOTE THAT THE PERFORMANCES WILL OCCUR AS PLANNED FOR THIS WEEKEND …UNLESS THE WEATHER CHANGES…AS OF THURSDAY THE PERCENT OF PERCIPITATION IS ONLY 24% SO THE SHOW MUST GO ON!
Prepare to enter the fantasy of Alice's Adventures in Wonderland: An Immersive Experience for Families, on the campus of Pioneer Springs Community School in Charlotte. Just like Alice, (or in this production four Alices!) a maximum of sixteen audience members (per Alice) must make a choice to follow Alice either through 'The Garden Adventure' or 'The Forest Adventure'.
'The Garden Adventure' will guide you from 'the Duchess and the Cook', 'Lady Humpty Dumpty', the 'Gardeners', and the 'Flowers', before navigating an incline to walk down into the 'Hatter's Tea Party'. Viewers will find a few places to sit in and around the school during this adventure.
'The Forest Adventure' will encounter the 'Cheshire Cats,' 'Tweedle Dee and Tweedle Dum', 'The Caterpillar Diva' and the 'Gryphon and Mock Turtle', all on a path through the forest near a pond. This trip will have no seating along the way.
Everyone gets to play croquet with the Queen, King, and Knave of Hearts. The grand finale winds up at the 'Mad Hatter's Tea Party', where a cookie and beverage will be served and then audiences are given a chance to witness Alice's trial at the dramatic finish.
With multiple actors playing some characters, you will want to check the cast list if you wish to see a particular actor.
As the show is an outdoor experience, be sure to have bug spray and sunscreen handy.
Ticket prices include the refreshments at the Tea Party and North Carolina sales tax.
For more information, contact: Dr. Wrenn Goodrum at (704) 707-6757.
GARDEN ADVENTURE Alice of Diamonds – Rory Boyles, Alice of Clubs – Olivia Piervincenti, Cheshire Cat (Diamonds group) Emma Wood, Duchess – Quinn Boyles, Cook – Delaney Boyles, Lady Humpty Dumpty – Adeline Degolier, Cheshire Cat (Clubs group) Eliana Slade, Gardener Two – Grayson Flowers, Gardener Four – Ayden Berisha, Gardener Six – Camden Schauf, Gardener Eight – Vincent Tock, Ace of Spades/Executioner – Mackenzie Murphy, Rose – Rachel Rogers, Snapdragon – Zahara Alsaba, Catmint – Danica Sandoval, Daffy O'Dill – Alli Lopez, Forget Me Not – Aryana Berisha
FOREST ADVENTURE Alice of Hearts – Emily Tinder, Alice of Spades – Emilia Gregori, Cheshire Cat – Mylo Jae Summer, Cheshire Cat – Nat Hotchner, Tweedle Dee – Lori Aine O'Healey, Tweedle Dum – Alex Stockman, Caterpillar Diva – Kathleen White, Gryphon – Melody Tock, Mock Turtle – Norah White.
BOTH ADVENTURES Queen of Hearts – Brookelyn Schauf *, Queen of Hearts – Jewel Caceres *, King of Hearts – Abel Saake, Knave of Hearts – Cesario Gregori, Mad Hatter – Libby Rhea, March Hare – Blake Tapia, Dormouse – Amelia Mitchell, White Rabbit – Kohen Hamlin, Cheshire Cat – Harper Walters
*If you are reserving a ticket to see a particular Queen of Hearts, please ask what days and times they are performing before making your reservation.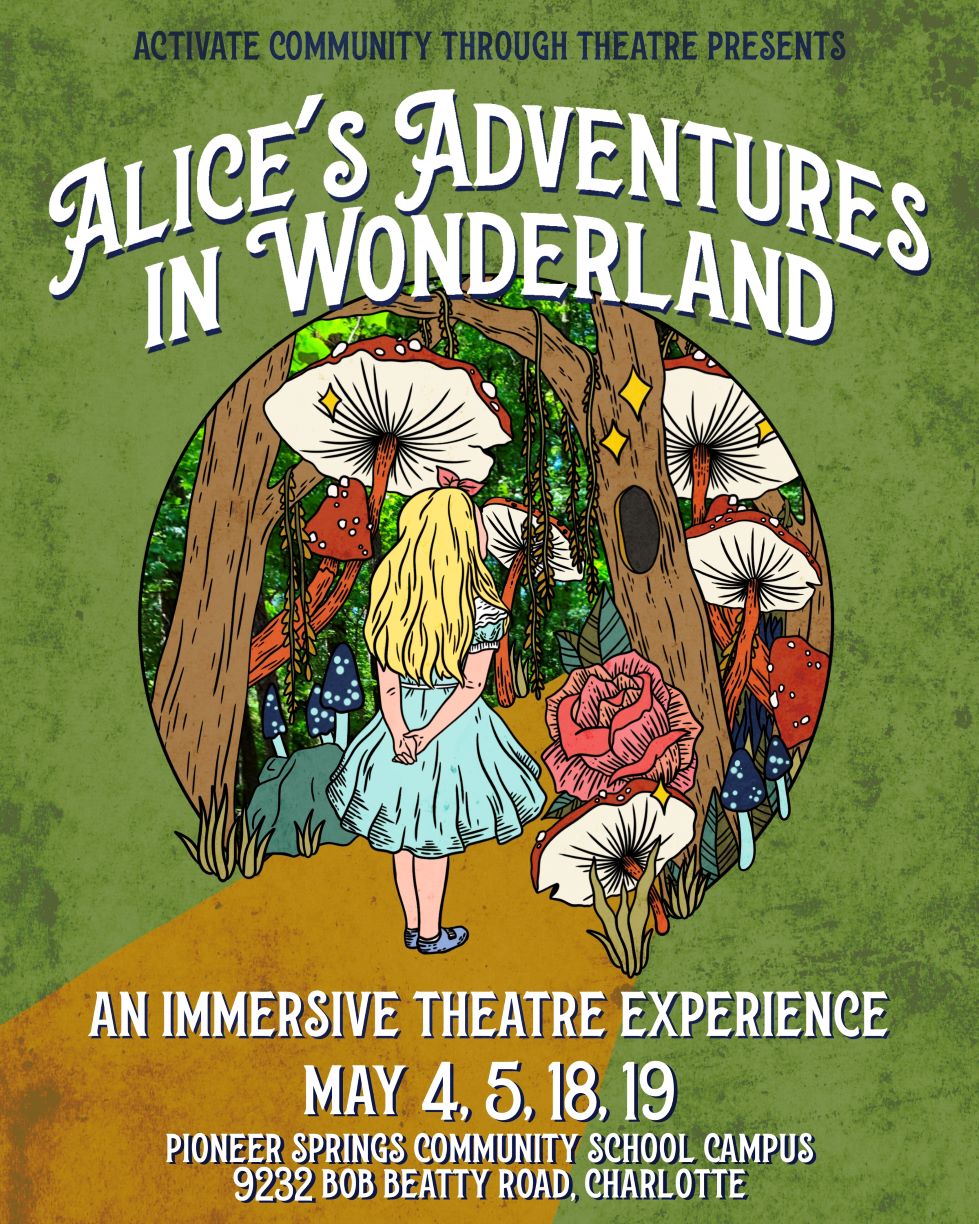 <![endif]-->